The International Masters Regatta is back – 12 legendary skippers will compete in San Diego
by San Diego Yacht Club Sep 25 11:22 PM PDT
21-23 October 2021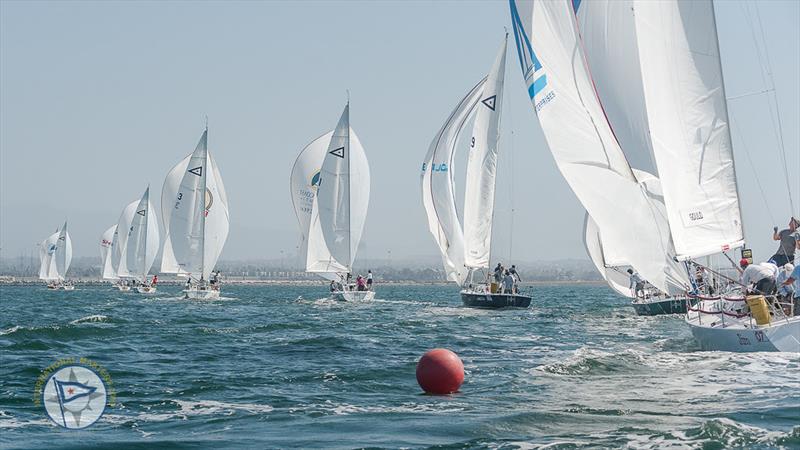 International Masters Regatta © Mark Albertazzi
After a year without one of the San Diego Yacht Club's most beloved and anticipated regattas, the club is delighted to welcome twelve legendary captains to compete for victory at the 2021 International Masters Regatta. held from Thursday October 21 through Saturday October 23 will include three days of competition in San Diego Bay with well known names in sailing. Skippers will join us in Southern California from all over the world: New York, New Zealand, Toronto, Washington and California.
This year's skipper's roster includes: Bill Campbell (2017 winner), Tad Lacey, Donald Jesberg, Carl Buchan, Bill Menninger (2016 winner), Scott Harris, Andy Roy (2019 winner), Rod Davis, Alan Field, Craig Healy , Phil Lotz and David Gould.
The reigning champion of the last edition of the event in 2019 is the skipper Andy Roy. The team in red took their fierce competition down south two years ago and showed the American teams all the fighting (with a smile and camaraderie, of course … they're Canadian)!
"We wanted to come back mainly because we absolutely love the event. SDYC is putting on a first class event, with great, friendly competition and superb hospitality. We would also like to try to defend our 2019 victory. having a crew that regularly flies J / 105s in Toronto is obviously an important factor as I have only sailed the boat twice, both times at the International Masters Regatta, "said Roy.
Skippers Tad Lacey, Bill Menninger, David Gould and Scott Harris join the 2019 race fleet. However, others have had fun in the J / 105s in the past, such as Donald Jesberg who sailed the race. of 2019 with Tad Lacey. Now Lacey has become the competition.
"I've been on Tad Lacey's team for the last three races. I mostly sail on Etchell, but just raced as a tactician in the Rolex NYYC Invitational Cup for the San Francisco Yacht Club with the skipper Shawn Bennett. The format of this race is great with short races which are all very even. I look forward to seeing some old longtime friends again, "said Jesberg.
Jesberg and Bennett finished in the middle of the fleet in 9th place at the Rolex NYYC Invitational in September. Bennett will now be Jesberg's tactician for the 2021 Masters Regatta.
Carl Buchan, inducted into the National Sailing Hall of Fame in 2021, is also new to the event's skipper, but has teamed up for his father in two masters regattas in previous years and has no shortage of experience. Buchan won numerous World Championship, National Championship, and North American Championship titles while also serving on Jonathan McKee's crew at the 1984 Los Angeles Olympics, winning gold in the Flying Dutchman class.
Buchan says he's assembled a ready-to-win crew, including his wife Carol Buchan. "I am thrilled to be sailing with the fun team we have at SDYC who are always one of my favorites. My wife Carol and I have been sailing and racing together for longer than our marriage of 42. She also has sailed with my dad in the Masters twice, "Buchan said.
Among the rookies are skippers who sail with a title already to their credit from previous years. Bill Menninger, winner of the 2016 International Masters Regatta, explains that his strategy for this event is to come to San Diego and have fun. "I decided to entrust a friend from the UCI with the responsibility of assembling the crew. I plan to practice the day before if we can get everyone there and have fun, "Menninger began. "I've always admired low practice, good sailing results. The people who could do the most with the least are my heroes. Not because of laziness, but because there are so many other things. to do in life … and this practice is a bit boring too, "he joked.
Bill Campbell also joined him on the podium of the previous winners. Campbell not only won the regatta in 2017, but was also part of the Malin Burnham winning team in 2015. Campbell explains what sets the International Masters Regatta apart. "The regatta is unique in that it is a truly international regatta that invites sailors from all over the world. It is also unique in terms of the age required to bring a group of men and women. aged on the race course for fun and games. The race is close and intense, but left on the course and we all enjoy each other's company at post-race activities and parties. "
Campbell has made three appearances in the America's Cup and was also part of Bill Koch's squad that won the Cup in 1992.
No wonder this regatta is full of talent and we can guess the rankings on the final scoresheet.
Craig Healy comes to us with the experience of the 2000 Olympic Games in Sydney, Australia at Solings. Rod Davis holds an Olympic gold medal at the 1984 Olympic Games in Los Angeles, a silver medal at the Barcelona Games, competed in the 1996 Games in Atlanta and competed in the 2000 Games in Sydney.
Scott Harris participated in a very successful Farr 40 program on Crocodile Rock and actively sailed J / 125 Snoopy. Phil Lotz competed in J / 105, Melges 32, Etchell, Viper 640 and IC37, in addition to winning two national championships on his Swan 42, Arethusa, and winning the first Rolex New York Yacht Club Invitational Cup.
David Gould has a lot of Masters experience, this regatta being his third in a row. Alan Field is known for his success in the Melges 24, finishing second in the 2018 World Championship and first in many North American championships.
The races will start on Thursday October 21. Skippers, crews, SDYC members and guests will enjoy the Thursday night kickoff celebration and the annual Taste of Point Loma, where they can sample food and drink from top local establishments.
After the Friday races, sailors can enjoy an evening at the dock with a tasting station from Old Harbor Distilling and snacks provided by Chipz Happen. The race will end on Saturday, after which teams, families and guests will participate in the traditional Saturday evening banquet, which will also serve as the awards ceremony.
Commodore Morton of the San Diego Yacht Club welcomes our skippers. "The SDYC is honored to welcome such legendary sailors to our club. The International Masters Invitational Regatta was established in the late 1970s by St. Francis Yacht Club member Don Trask and for years the most The world's great marine masters raced in this international sailing competition in the San Francisco Bay Area. Now the event has relocated to San Diego, and we are proud to host it. "
Take your boats out to San Diego Bay to watch the races in person or follow the results online here.
Thank you to all the owners of J / 105 who chartered their boats this year to support the regatta.
NoR available here.
For more information, visit sdyc.org/masters.
Past winners:
| Year | Winner | Home Yacht Club |
| --- | --- | --- |
| 2021 | To be determined | ‑‑ |
| 2020 | No race | ‑‑ |
| 2019 | Andy Roy | ‑Royal Canadian Yacht Club |
| 2018 | Dave perry | Pequot Nautical Club |
| 2017 | Bill Campbell | San Diego Nautical Club |
| 2016 | Bill Menninger | Newport Harbor Nautical Club |
| 2015 | Malin Burnham | San Diego Nautical Club |
| 2014 | Augie Diaz | Coral reef nautical club |
| 2013 | Chuck nichols | San Diego Nautical Club |
| 2012 | Dennis case | San Diego Nautical Club |
| 2011 | Not run | ‑‑ |
| 2010 | Not run | ‑‑ |
| 2009 | Not run | ‑‑ |
| 2008 | John kilroy | Nautical Club of Saint-François |
| 2007 | John jennings | Saint Petersburg Yacht Club |
| 2006 | Georges hinman | New York Nautical Club |
| 2005 | Malin Burnham | San Diego Nautical Club |
| 2004 | John jennings | Saint Petersburg Yacht Club |
| 2003 | Malin Burnham | San Diego Nautical Club |
| 2002 | John jennings | Saint Petersburg Yacht Club |
| 2001 | John jennings | Saint Petersburg Yacht Club |
| 2000 | Malin Burnham | San Diego Nautical Club |
| 1999 | Bruce munro | Nautical Club of Saint-François |
| 1998 | Dick deaver | Los Angeles Nautical Club |
| 1997 | Stuart Jardine | Royal Lymington Yacht Club |
| 1996 | Stuart Jardine | Royal Lymington Yacht Club |
| 1995 | Stuart Jardine | Royal Lymington Yacht Club |
| 1994 | John scarborough | San Francisco Nautical Club |
| 1993 | Don Trask | Nautical Club of Saint-François |
| 1992 | Jim DeWitt | Nautical Club of Saint-François |
| 1991 | John scarborough | San Francisco Nautical Club |
| 1990 | Don Trask | Nautical Club of Saint-François |
| 1989 | Don Trask | Nautical Club of Saint-François |
| 1988 | Cy Gillette | Kaneohe Bay Nautical Club |
| 1987 | Alain clark | Richmond Nautical Club |
| 1986 | Charlie dole | Waikiki Nautical Club |
| 1985 | Charlie dole | Waikiki Nautical Club |
| 1984 | Ash knot | San Diego Nautical Club |
| 1983 | Roger eldridge | San Francisco Nautical Club |
| 1982 | Alain clark | Richmond Nautical Club |
| nineteen eighty one | Cy Gillette | Kaneohe Bay Nautical Club |
| 1980 | Alain clark | Richmond Nautical Club |
| 1979 | Alain clark | Richmond Nautical Club |